Los Angeles Auto Glass Repair 
GTO Auto Glass
Auto glass repair and windshield replacement in Los Angeles, California 
GTO Auto Glass in Los Angeles, California provides quality auto glass and windshield repair and replacement services wherever you are and whenever you need it. Cracked car windshield, window or mirror? Trust GTO Auto Glass with your auto glass repair and replacement needs. We offer  and auto gLass repair! For an auto glass quote or to schedule service call (800) 448-6452.

Same Day Service 
At GTO Auto Glass, we will replace your auto glass. Our family has owned this business since 1980.

We have a wide selection of windshield replacements. Whether you are paying out of pocket or have an insurance claim, our unit we will come to you, so you do not have to interrupt your busy day. You can also come to our shop and we will replace your glass while you wait. We do repair and even refurbish power and manual door window regulators.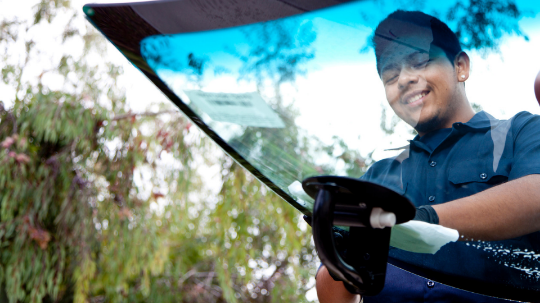 ¡También hablamos español!
En GTO Auto Glass estamos encantados de atender a nuestros clientes de habla hispana. Nuestros expertos en vidrio tienen años de experiencia trabajando con todo tipo de automóviles. 

GTO Auto Glass in Los Angeles, California is an auto glass shop providing car glass repair and replacement. Broken car glass? Our auto glass experts provide auto glass services - contact us at (800) 448-6452. We are trusted by all auto dealers for custom glass repairs for all vehicle makes and models

Upon customer request we provide OEM glass and we also supply all top quality generic glass brands. For all custom glass repairs, even on special vehicles going back to the 20's and 30's just call us and we'll be happy to supply a quote.

I called Thursday morning about having my windshield replace and got the first appoitment Friday morning. The service tech was on time, he was very informative, he explained everything including the warranty coverage and was done in about an hour. I couldn't have been easyer, in short they are the best! 

Robert N. 
Another VERY HAPPY CUSTOMER! 
My GTO glass quote was $80 cheaper than any other compitetor to replace my entire front windshield! The Installer was right on-time with the appointment I scheduled on-line and did a perfect job on what is one of the, if not the hardest auto windshield to replace.GTO glass did just that, and did not rush the job making sure that it looks as good as new. A real professional install and I would highly reccommend them. 

Vince D. 
GREAT SERVICE... VERY FRIENDLY SERVICE 
I had my front windshield replace by GTO about a week ago and had a great experience. Technicians were very friendly and installed the auto glass in no time. Not only did they price match their competitors but they beat them by 10%. Overall a great experience and would higly recommend them to anybody. 

Marcos A.
Expert installation and affordable.